February 24, 2014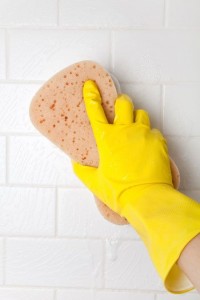 It seems like now-a-days everyone is going green, emphasis on "seems like". The truth is, as we are becoming more aware of the toxic chemicals found in many every day cleaning products, we decide to go to go green. But the producers of cleaning products are not prepared to lose us as customers. So what do they do? They "give us what we want". By that we mean they slap words like: GREEN, organic, biodegradable and environmentally friendly across their products without really changing the ingredients.
So what is an environmentally conscious individual on a budget to do?
Non-toxic Cleaning Product Recipes
We are going to provide you with a list of cleaning products you make on your own, without feeling guilty for filling your house with chemicals or causing further damage to our planet.
1. Dusting Cleaner: I think we can all agree that products that are sold in an aerosol can are obviously not doing any good. But how do we clean and shine our furniture and nik-naks without these toxic cleaners? Here we have an easy recipe for dusting and polishing your home and odds are, you already have most of these ingredients (if not all) in your house.
Recipe:
2 tsp olive oil
1 tsp lemon juice
1/4 C white vinegar
1 C warm water
Directions:
Stir and shake all ingredients together inside of a squirt bottle.
2. Glass Cleaner: I know you are probably thinking there could never be a replacement for that bright blue cleaner we rely so heavily on for all of our window and mirror cleaning needs. Well we have a replacement you are going to love!
Recipe:
1/4 C rubbing alcohol
1/4 C white vinegar
1 TBSP cornstarch
2 C warm water
Directions:
For best use, stir and shake well inside of a squirt bottle.
3. Bathtub/Shower Cleaner: The tough stains are hard to get out, we know this. But that doesn't mean you have to turn to harsh chemicals. Cleaning your bathtub's hard stains can be done with two natural and simple ingredients!
Ingredients:
1/2 C grapefruit
1/4 C kosher salt
Directions:
This one is a little different than the others. To use this cleaning method simply pour salt onto the grapefruit half and scrub away. The abrasive ingredients will completely remove all stains and dirt from your tub.
4. All Purpose Cleaner: This is the holy grail of cleaning products. Without all purpose cleaners we would have to buy a hundred and one different products to get the same amount of work done. So could there really be an alternative? Yes! We have a recipe that will blow your old cleaning product out of the water!
Ingredients:
2 tsp baking soda
1/2 tsp Dawn dish soap
4 TBSP white vinegar
400 mL warm water
Directions:
Just like the other products, simply add these ingredients to a spray bottle, shake, and you're ready to go!

Green Apple Cleaning Service
For more tips and ticks for keeping your home clean and orderly, continue to follow the Green Apple Blog.
Has cleaning your home become something you don't really have time for? Green Apple is an Ottawa based cleaning service with a staff that is highly experienced in the field of cleaning. The employees of Green Apple make it a mission to do a perfect job every time! Give Green Apple Cleaning Service a call to get your home whipped back into shape in no time at all!