Why did we start a house cleaning company?
We wanted to do it better
Hi,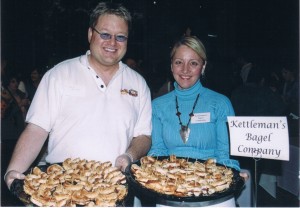 My name is Craig Buckley, and I am one of the founders of Greenapple House Cleaning. Most people know me from another Ottawa based business that I own and operate – Kettleman's Bagel Company. Running a 24 hour business isn't an easy thing to do. I'd hired house cleaning services for years, and always found myself underwhelmed or disappointed with what what I felt was a lack of consistency in cleanings, a myriad of different people and staff that would visit my home on each visit, scheduling unpredictability, and my personal feeling that there was little appreciation of where the job was occurring – our home. No one ever came or checked in with us to determine what was important during a cleaning visit, and I never found a company that took the time to determine what my expectations were when we did the job. One visit would be great, and then another wouldn't be as good. I was also concerned about harmful effects of some of the commercial cleaning products that were being used in my house, as well as their affect on the environment. One look at the Ontario poison control centre's web site, and I found myself second guessing even household cleaners that I would purchase myself.
My wife and I decided to address what we felt was an issue in the industry when we founded Greenapple. We wanted to create a company that put significance on where we were doing our job – your home – the place where you return to and where you reside with your family. We wanted to establish a business that created a sense of familiarity with our customers when tasked with cleaning their houses, and equally as important, we wanted to create a standard where we were cleaning homes with environmentally sensitive and sustainable products – chemical free and non toxic.
Many people look at one thing when choosing a cleaner for their home, how much do they cost. This is an important question. We believe a cleaning company that comes in lower than most of the other companies means one thing, they are paying their employees as little as possible.  When you look for a job in your field, do you look for the lowest paying company? The cheapest companies might also lack;  proper employee training, insurance, superior products for cleaning your home, police check for cleaning staff and many more important associated costs. But a more expensive cleaning service is not always the best either.
Your home is the most significant purchase you will make. We meet with you to personally determine your expectations on cleaning your home and assess your home to see what needs to be concentrated on. Our team will listen to you and look for things in your residence that even you might not notice. All our products are certified by the Eco Logo, our people are professionally trained and bonded and insured.
We wanted to take the time to thank you for coming to our website and reading our Greenapple house cleaning services. Please contact us or request an estimate and hopefully we can earn your business.
Sincerely,
Craig Buckley
Principal
Greenapple House Cleaning Services, Inc.
Ottawa, Ontario