January 2, 2011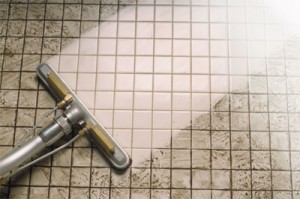 As one of Ottawa's premier house cleaning and maid services, we like to share some of our approach to successfully cleaning your home without the use of standard commercial cleaners. Our last post on cleaning without the use of bleach was the kick off in what is a series of posts we'd like to share with you related to alternatives to the variety of store bought products that can have harmful effects on the health of you and your family. Today – we're going to talk about cleaning grout. Arguably the peskiest thing to deal with in most kitchens and bathrooms.
First of all – what is grout?
Grout is the stuff between tiles – an adhesive plaster that's used to protect the edges of tiles from damage. In many high traffic areas in the home, like kitchen floors, back splashes, and showers and bathrooms, grout can become grimy and dirty. White grout is especially susceptible to discoloration. In most cases, it's what's used in kitchen and bathrooms. Grout is porous, and as a result, it can also collect odor causing bacteria. There's a misconception that a powerful cleaning agent is required to get grout back to it's original color and to truly remove bacteria and dirt. The truth is that you can create one of the most effective grout cleaners with common household items – like baking soda. In most cases, this is a more effective solution than purchasing a commercial cleaning product over the long term – many of which require you to apply the cleaner to an area and in many cases walk away from it as you let it set. Here's what you do:
Create a mixture of baking soda and water. You want a consistency like a paste. Baking soda is one of the best odor fighting items in your house cleaning arsenal, and it has no adverse environmental effects.
With a damp cloth (or mop if you're working on a floor), moisten the grout. This loosens up bacteria and softens the surface area you're working with.
Apply the paste to the grout with a toothbrush or a grout brush. Apply circular motions – much like how you brush your teeth.
For aggressive stains on white grout, you can use vinegar or lemon juice. These will require you to apply to the grout and let sit for roughly about 30 minutes, but in most cases, the application of a baking soda paste will usually do the trick.
House cleaning and house keeping, don't have to involve cleaning products that become harmful when mixed or dangerous when exposed to the face, eyes or skin. Contact us to schedule a booking for your house cleaning or request a quote.