December 23, 2010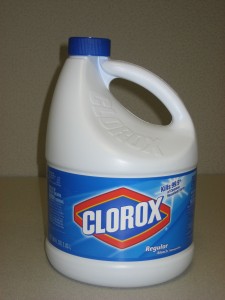 The good folks at Teresa's Family Cleaning in Long Island New York create a compelling explanation about the realities of using bleach in an excellent post on their blog entitled The Do's And Don'ts For Healthy Cleaning. Bleach is a strong corrosive material. It has the capacity to severely irritate the eyes, skin, and respiratory system even with a small exposure. It has been linked to reproductive development issues and is the source of many, if not most, domestic poisonings that occur in the home. You can undergo a thorough house cleaning without using bleach. Here are some alternatives from the good folks at E-How. You can read the full article here.
Oxygen Bleach– This bleach alternative is 100% biodegrad­able, non-​toxic, and made of 100% nat­ural ingre­di­ents. It is also color safe which means it won't discolor fabrics like chlorine bleach does. Oxygen Bleach is also frangrance-free and does not contain enzymes, phos­phates, chlo­rine, DEA and petro­leum ingre­di­ents. It easily takes care of problem stains and boosts laundry detergent. It also cleans tile and grout, mold and mildew, and carpet stains.

Hydro­gen Per­ox­ide – This is another frugal nat­ural bleach prod­uct that can be used all around the house. It works well for carpet stains, tub & tile stains and much more. Peroxide works especially well for blood and diaper stains. Simply replace the lid of your hydro­gen per­ox­ide con­tainer with a spray nossle and spray directly as needed. Hydrogen Peroxide can also be used to clean your tub and tile by spraying with a layer of peroxide followed by a layer of vinegar.

Lemon Juice – This is another multi-purpose household cleaner. Lemon juice is a great alternative to chlorine bleach when it comes to stains on white clothing. Simply moisten the stain with lemon juice and lay the article of clothing in the sun. Then add a little more lemon juice just prior to wash­ing. You can also whiten a whole load by adding 1/2 cup of lemon juice or some sliced lemons to hot or cool water, depend­ing on fabric, soak and then wash as usual. Lemon juice can also be combined with cream of tartar and mixed into a paste to use on stubborn stains on white clothes. This mixture will even work to remove rust.
As one of Ottawa's premier house cleaning and house keeping services, we're committed to creating awareness about the realities of commercial cleaning products and their dangers. You can clean your home without the use of bleach, and taking the environment into consideration is easier than you think. Contact us to schedule a booking for your house cleaning or request a quote.