November 27, 2010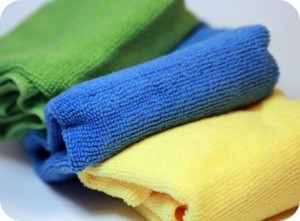 It's all in the details.
As one of Ottawa's professional house cleaning companies, we wanted to dedicate a post to one of the said details when it comes to a doing a good job on a client's home. As a company, part of doing a good job on a client's house is in having the right tools. A microfiber cloth is something that comes with us – as in many of them come with us – to every customer's home. A better tool than a typical rag or cloth, these useful cleaning essentials are invaluable in any situation where dirt and grime persist. There's a few reasons for that…but first – what is a microfiber cloth?
Microfiber is a synthetically produced material that is made from mainly polyester which is woven in a way that gives it millions of retentive cross sections that remove and trap dirt, oil, and residue. This makes it an ideal material for cleaning. Microfiber is also ideal as a cleaning material as it is non abrasive, leaves no residue, and in most cases – will remove up to 99% of bacteria on a surface, versus a conventional cotton or cloth wipe, which can only remove about 33% of present bacteria on a given surface.
What makes microfiber such a useful tool in the fight against dirt and grime are these very attributes. Ideal for anywhere, microfiber cloths makes ideal surface cleaners really in any application around the house, whether it's a bedroom or a bathroom. This is why we insist on using them.
Contact us to schedule a booking for your house cleaning or request a quote.